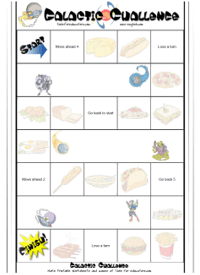 Free board game templates with images, text or both
to use as resources for lessons, lesson plans and printable materials for English classes. More game board templates listed below!
The board game maker is a worksheet wizard that allows you to create boardgames on any theme with your choice of 1000+ pictures. You can select a board with all images, customize a board with text of your choice and mix with images , or just create a board that is all text. It's super simple, easy to use, but very powerful.
Create board games with 'images' only or images and some text:
I hope to have a few more game options but here's what I have so far, two other snaking themes and a racing loop.
the Galactic Challenge is a sci-fi theme.
Fantasy Park is a cool fantasy design
Race to the Finish is a cute board game with an animal theme.
Racing Loop game - for more practice of your learning target
For more board games templates, try the printable board games with matching questions cards from MES.

These can handle some foreign languages as well. So, French teachers, LOTE teachers, German teachers, Spanish teachers and more can use the board game maker in their classes as well.